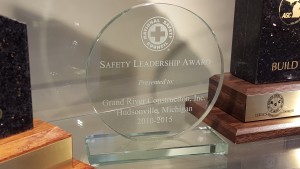 The Safety Leadership Award of the National Safety Council recognizes companies, that have achieved a minimum of five consecutive "perfect record" years, operating without incurring an occupational injury or illness resulting in days away from work.
Championed by Grand River Construction's ownership, and piloted by Corporate Safety Director John Spavale; GRC's Safety/Health program is designed to meet the needs of ever-changing conditions, which are common to our industry.
Grand River Construction has worked relentlessly for continuous improvement of enhancing it's safety minded culture. GRC provides it's employees with industry leading safety equipment and thorough training on properly utilization of equipment to ensure all our team members are afforded the safest means to perform their tasks.
Recognizing that engineering techniques alone are not enough to ensure that exposure to hazards is controlled, GRC's Safety/Health program includes coordination, monitoring and educating the personnel involved in constructing the project. Aggressive implementation of loss control measures are in effect throughout all project, as Grand River Construction strives for zero incidents.